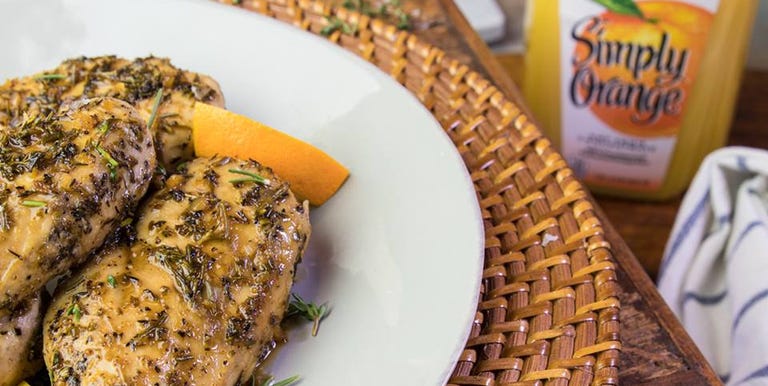 If the only time you reach for orange juice is in the morning, you're doing it wrong. OJ — especially varieties made from 100 percent real fruit, like Simply Orange — is your kitchen's unsung hero. Consider this a crash course in putting the juice to work: in cocktails, in marinades, in baked goods, even in your cereal bowl.
Spritz ribs with orange juice as they're grilling.
You'll keep the meat moist and add a slightly sweet tang that'll have guests begging for your secret ingredient.
Freeze the juice in ice cube trays.
You can blend them into smoothies, throw them into plain seltzer, or add them to sangria.
DIY a no-added sugar ice cream topping.
Most fruity syrups for sundaes are packed with cane sugar, but there's a healthy way to hack the system. Soak your fruit of choice — berries sound nice — in orange juice (Simply Light has no added sugar and 50 percent less natural sugar), then lightly mash the mixture and pour it over a couple scoops of vanilla.
Use orange juice instead of water in boxed cake mixes.
Don't bother buying a bottle of orange extract that you'll never use again. Reach for the OJ you've always got in the fridge and sub it — cup for cup — for the water that boxed cake mixes call for. Each slice will taste perfectly fruity.
The basic formula for any good salad dressing is fat plus acid; it's why oil and vinegar works so well. But try a different combination — like this nut butter and orange juice combo from Simply Orange — for something a little more zingy.
Mix up an at-home lip balm.
You can use a mix of beeswax, shea butter, essential oil, and fruit juice, according to a recipe on Bellatory.
Add orange juice to your scrambled eggs.
One food blogger swears that adding a splash of OJ to eggs gives them a welcome sweetness. The recipe has made its way around the internet — and it looks like people agree: It's good. (Pro tip: Go for a super smooth juice, like Simply Orange's pulp-free bottle.)
Kick your bacon up a notch.
Glazed in orange juice and honey, bacon tastes 100 times better — if that's even possible. (Opt for Simply Orange's juice that's fortified with calcium and vitamin D so you can feel like your eating something kinda-sorta healthy.)
Make a takeout fake out dinner.
You can make orange chicken — like the kind from your favorite Chinese joint — with orange juice … imagine that. This Delish recipe is as simple as it gets.
Deglaze your pans.
Deglazing is just a fancy word for scraping up all those browned bits that stick to your cookware after you make dinner. You could throw vinegar or water onto it, but some people opt for OJ, which lets your pan build its own sweet flavor.